Burial Sites
---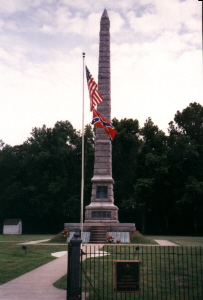 Photo courtesy of the PLPOW Descendants Organization

Confederate POW Cemetery
Point Lookout, Maryland
Here is the monument over the mass grave at the Pt. Lookout Confederate POW Cemetery in Pt. Lookout, Maryland, where over 14,000 Confederate soldiers are buried. There are three verified members of the 28th Georgia who died and are buried there: Cpl. Robert A. Crouch (Co. E), Pvt. Richard B. Loyd (Co. E), and Pvt. R.S. McClurg (Co. G). Of the 14,000 Confederate soldiers buried there, Federal authorities only recorded 4,000 of their names.
Information provided by Patricia B. Buck and the PLPOW Descendants Organization.

Headquarters and Staff
We are always looking for pictures of the original 28th Georgia Volunteer Infantry.
If you have any pictures that we can use or know the whereabouts of any pictures associated with the regiment, please contact our webmaster. Thanks!