Pictures - Miscellaneous
---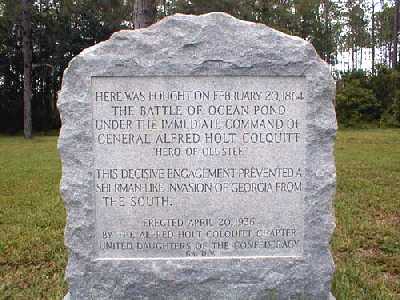 Colquitt Monument
Olustee Battlefield State Historic Site
Monument to Brig. Gen. Alfred H. Colquitt at the Olustee Battlefield State Historic Site in Olustee, Florida. Brig. Gen. Alfred Colquitt was the 28th Georgia's Brigade Commander from the time of Gen. Lee's assumption of command in Richmond until their surrender at Raleigh Durham, N.C. with Gen. Johnston. Inscription on monument reads:

"Here was fought on February 20th, 1864, the Battle of Ocean Pond under the immediate command of General Alfred Holt Colquitt, 'Hero of Olustee.' This decisive engagement prevented a Sherman-like invasion of Georgia from the south. Erected April 20, 1936 by the Alfred Holt Colquitt Chapter of the United Daughters of the Confederacy, Ga. Div."
Photo courtesy of Christopher Doyle.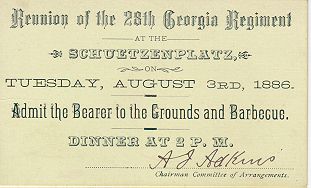 28th Georgia 1886 Reunion Pass
The reunion card was found in a book titled UNITED STATES HISTORY- THE CIVIL WAR, published in 1884. The card is signed by A.J. Adkins, who was the Chairman of Arrangements at the 28th Reunion.

Aaron Jefferson Adkins - Private, June 14, 1861. Transferred to Co. I, 28th Regiment of Georgia Infantry, January 3, 1862. Appointed Corporal, January, 1863. Captured at Richmond, Va., April 3, 1865. Paroled April 28, 1865. Born in Warren Co., Ga., November 7, 1842.
Information taken from Henderson's Roster of Confederate Soldiers from Georgia.
Photo courtesy of Greg Wright.



28th Georgia marker at The Cornfield
Antietam National Battlefield, Maryland
Photo courtesy of Joe Oswalt.